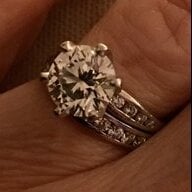 Joined

Apr 18, 2007
Messages

1,118
I wrote in Rocky Talk that I chipped my 2.03 stone and now had to get a replacement. I was devastated.
It was covered by the retailer's lifetime warranty, so they either would pick a suitable replacement (suitable for who?), or I could upgrade, and they would give me credit for the full price I paid, including the tax. I decided to upgrade my stone's cut. I went from a
2.03 GIA EX/VG/VG
, to a
2.19ct, AGS000
. I never dreamed I would see such a performance difference! I went from a 59 table to a 55 table, this alone made a huge difference. This new stone has it all! Tons of fire, crystal clear, and sparkles galore!!! I was afraid that going from an H to I color, I would be disappointed. But I am not, AT ALL! This stone out performs my last one, so any body color is sparkled away. I cannot believe how crisp and clear this stone is, and plenty white. I don't have a lot of photos to choose from yet, so here's a couple to give a general idea. I tried to capture the fire.
Stats.
2.19 I VS1 AGS 000
Table 55.3
Depth 61.5
Crown 35
Pav. 41
(This stone is still advertised online here at PS, if anyone want to see the cert.)