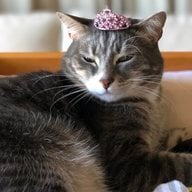 Joined

Aug 7, 2019
Messages

408
How is your Dad coping with the covid related restrictions?
Is his health good Yelena ?
Thanks for asking
@Daisys and Diamonds
he is thankfully doing pretty well. He can walk unassisted still, even though he walks very slowly and not with the same flexibility of movement as someone who is younger, but it's still pretty good given his age. His general health is pretty good too. The only thing is that he does have a bit of dementia, but again, thankfully not too bad. I can't send him up to the shops by himself with a shopping list, but his long term memory is still pretty good. Covid's impact has been that Dad never goes to the shops anymore which isn't a huge loss to him. He was a bit restricted initially, but it's pretty good here with very low/no cases so we all feel less stressed at the moment. We get some 'in-home' care which is mostly used for social support, so he has an older gentleman come to visit every day to chat and take him for a bit of a walk and assist in a few other ways. His care support worker was also in an at risk category for Covid himself so he limited his work to just our household, so thankfully it has all worked out very well so far. My aim is for him to either die at home or in hospital, not in a nursing home.