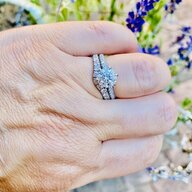 Joined

Nov 22, 2017
Messages

63
HI Pricescope Community,
I am in the process of searching for a round diamond. I have read through many threads on here and feel like I am becoming more knowledgable about diamonds and I thank you all.
I am posting 2 different diamonds and I would like all of your expert opinions. I know that everyone may say get the ACA, but honestly I feel the GIA is more impressive. What do you think, am I missing something?
Right now, I am looking for a 1.3 G VS2 diamond because unfortunately, money is a huge factor. I am very light sensitive and am looking for a white diamond, so I don't really want to go below a G.
Here are the two diamonds that I am interested in. I will also post the setting that I like. Your opinions are appreciated.
G VS2 ACA
https://www.whiteflash.com/loose-diamonds/round-cut-loose-diamond-4092180.htm
G VS2 Premium Select
https://www.whiteflash.com/loose-diamonds/round-cut-loose-diamond-4107653.htm
Setting
https://www.whiteflash.com/engagement-rings/diamond-settings/french-set-diamond-engagement-ring-2548.htm
Thank you