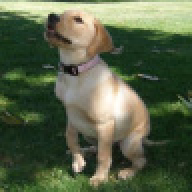 Joined

Nov 27, 2006
Messages

14
Just recently presented my girl with this ring (she said yes... I know, I owe a post to the "Show Me The Ring" forum

)
Before ordering the setting, I knew she was probably a size 5.5 (she had tried on a couple of her friends'' rings), but I decided to be conservative and I ordered a size 5.75. Turns out that 5.75 is just a bit loose on her, and I think she would be more comfortable with a 5.5. However, I am hesitant to resize the ring, for a few different reasons:
1. It''s currently Winter, and her fingers might swell a bit when it warms up;
2. Right now, the ring is absolutely perfect, aesthetically speaking, and I''m afraid a resize, however subtle, might adversely affect the characteristics of the setting;
3. We''re currently pretty young (twenties) and without kids (yet), and I''m sure there''s a good chance of her finger size increasing over time (with age, pregnancy, etc). I''m hesitant about sizing the ring down a quarter size, but I definitely don''t want to have to size it back up later down the road.
4. We don''t have the wedding band yet, but I''m told the addition of a wedding band can make the rings feel more snug.
So, that being said, I think I have the following options:
1. Have a local jeweler resize the ring down to 5.5
2. Send the ring back to the jewler I bought it from (Pearlman''s), and have them resize it
3. Don''t resize the ring and order a wedding band in size 5.75, to match the engagement setting
4. Don''t resize the ring and order a wedding band in size 5.5
Any opinions or advice is greatly appreciated. As always, Thanks!!