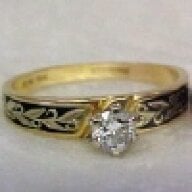 Joined

May 9, 2006
Messages

1,794
Problem:
I am too fat to wear my 'placeholder' ring anymore.
It has already been resized from it's original tiny ring size (think it was a 3.75 or so) to it's current 7.25. I need an 8.25. The jeweller who took care of resizing did an amazing job melding the new gold bar into the band, so you can't tell it was massively resized, but it also means I am hesitant to push it further.
The problem is, people at work have started asking me awkward questions and rumours are going around that I've split with my SO, to whom I am legally married.


****** Skip to bottom if backstory is unneeded! ******
For those who don't know my story, SO and I had to get legally married very early on in our relationship in order to deal with our immigration hurdles and be together. PSers coached me through the biggest leap of faith one could ask for (

to all those who held my hand through that journey!) and it was the best thing that's ever happened to me. It was the right choice. We're still planning to get ceremonially married (with the families, the vows, the rings, etc) when we can afford it and he's no longer in the madness of grad school. We still have not gotten formally engaged even though we're legally married. We will get engaged (with some sort of ring) and then ceremonially married when circumstances allow, and I'm fine with that - no rush. I've got the man, the trappings will happen when they happen.

We don't wear wedding bands, because while the wedding ceremony and hoopla will be for the sake of his family's expectations, the exchange of rings and vows is the only thing we care about. (There were no rings or vows in our 35 second legal dealie, and I have my very pretty placeholder ring so people don't get all weird about my bare finger.)
So, we're in this sort of limbo where we are technically-married-but-not-fully, but that's not something my conservative workplace understands. However, my placeholder ring has always forestalled awkward questions, but now I can't wear it anymore.
****** Backstory complete! *******
I watch what I eat, I exercise moderately every day, but with my new promotion I am very focused on my job right now and establishing myself, so being a gym rat just to wear my ring again is not in the cards for at least the next 6 months. Plus, I feel like it's the equivalent of buying clothes too small with the hopes you will fit into them later - you can't go naked NOW until that happens!
It's become apparent that I can't go ringless either. So, I am looking into some sort of band I can stick on my bare finger that will quell people's flapping lips but won't look like a fashion ring, and around $200 or under. We plan to get simple matching domed yellow gold bands when we exchange vows- that's at least two years away or more. What kind of ring should I look for to avoid being too close to our wedding bands but not so far that people don't look at me funny?
I think something with an antique look, like my placeholder ring (it's in my av), might do the job, but what do people think?