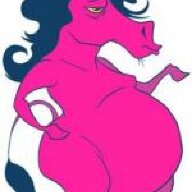 Joined

Apr 6, 2011
Messages

89
Hey!
I am still very much a newbie

I have a very big Question mark in my head about ring size.
In the process of custom designing a ring and this has been on my mind for awhile now. Need some advice and I guess just more human voices rather than the voices in my head

lol!
I'm wearing a L (5 1/2) eternity on my right hand very comfortably. (2mm wide, 1mm high)
When I switch it to my left hand it is a bit loose, but not badly, just a slight bit looser than the right hand.
Living in very hot countries (I do) also sometimes makes your hands swell or when I'm hormonal and then its still perfect.
So L (5 1/2) is a great size.
BUT.... thats just a single tiny little eternity.
and it sits on the smallest part of the finger (right against the palm).
What about when I put a ring on that is wider? Esp since essentially at the end of the day I would like 2 eternity's and then the engagement ring.
If I had to add that up, 2mm + 2mm + 3-4mm = 7-8mm! (which is not actually that hugggeee but I have small hands)
Then maybe the (5 1/2) will be too small?
THEN say I put on 5kg in the distant future (it better be distant).... weird to mention but its normal for a women's weight to fluctuate over the years.
I have squishy, baby hands, my mom still thinks I'm like 12. So there is 'space' from the bone....
help?????
I think I am looking for feedback from you guys on your experience of your rings, how you chose the size, how do you think about it now say since 2yrs + have passed? etcetera
Thanx for your time!