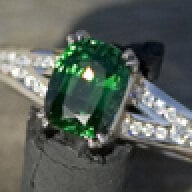 Joined

Aug 3, 2006
Messages

9,613
Okay, I''m about to start the CAD process for my e-ring and I need to finalise any last bits before we start. I''m a little nervous on my ringsize:

I''m currently wearing a size 7 eternity band which 90% of the time is way too big for my fingers - however, if I do anything particularly energetic my fingers swell up and I have to take it off.

I was in Tiffany last week and tried on about 5 or 6 of their rings of different sorts. I notied that they were an amazingly comfortable fit and the salesguy told me that they were all a size 6. It moved easily on my hand, but even high up settings didn''t move round when I shook my hand. I was in there for about half an hour so I reckon my hands had warmed up from the cold weather outside.

Other jewellers haven''t been happy to tell me my ring size unless I am ordering from them so that route is out. I looked into buying a sizing set, but all the ones I could find were in UK sizes not US and I don''t want to wait ages for a set to arrive here.

My knuckles are slightly smaller than my finger, so the ring needs to fit quite snugly.

What would you guys do? Go with the fact that 6 different Tiffany rings were all a perfect fit, or err on the side of caution and get a 6.25 or 6.5 and risk having it a tiny bit too big?

The ring will be channel set to the 5 o''clock and 8 o''clock points so I need to get this right as resizing will be a nightmare.

Oh I hate making these decisions!!!!