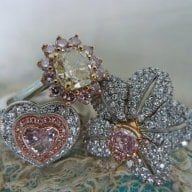 Joined

Aug 1, 2011
Messages

2,362
I've tried hard to stay away from Pricescope as I always find something I NEED to have when I visit.
So with all the Paraiba flurry, of course I had to have some, too. Not that I hadn't looked for Paraiba melee everywhere last year for a pink diamond project I wanted to do... but there wasn't any to be found. So when I saw Yvonne had some I picked up a bit of the 1mm (no more 1.5mm), not quite knowing what I wanted to do with it yet. Then when she had some of the cute little 3mm cabs- I picked up a couple of those, too. I was going to hold on making anything yet as hubby put the brakes on my spending, but with Christmas around the corner, I got the OK to proceed. I asked Yvonne if she could find a nice Mahenge spinel cab for me (which she did),and I've commissioned DK to make a ring.
I've attached photos of my inspiration ring by Megan Thorne. It will be in 18kt yellow gold with a mixture of satin and polished finishes. The center will obviously be oval instead of round. The bezels will be scalloped and polished instead of plain. I'm hoping this allows a bit more light into the cabs. Now in the original photo it has larger diamonds (aprox 1.7mm) above and below the center stone. I was planning on using some of the 1mm Paraiba melee in place of them and there would just be more. Also, not sure about the two end bezels, either. I tried doing a mock up with my limited capabilities

and am not sure whether I like the Paraiba melee around the center stone. Should I maybe leave diamonds there? And, if so, diamonds in the little end bezels, too? Maybe the ring needs more sparkle with diamonds... just not sure...
thoughts??