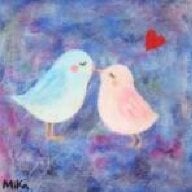 Joined

Oct 6, 2011
Messages

1,270
Long story short, I was married for 19 years but I'm now divorced. I was lucky enough to meet the love of my life 3.5 years ago shortly after my separation. He too was separated and going through re-building his life. Fast forward to this March, I mentioned I wanted a ring, and that it symbolized a lot to me. One that I was "taken" and two that we're committed. He gave me the go ahead at that time to purchase a ring of my liking. We are now in possession of the ring, but it took a lot longer to get here thanks to the pandemic.

He's not officially divorced yet, the day before he filed the paperwork the pandemic shut everything down. Ugh, bad timing I know. However he is legally separated, and in Canada that's the hard part. Upon receiving the ring I gave it to him so he could put it away somewhere safe and present it to me when he's ready - but he didn't even look at it, which I find really odd. It's currently sitting in his sock drawer, I guess that's his secret hiding spot. LOL men!

He knows I don't want to get married again though, at least for some time. I'm happy just spending the rest of my life with him, honestly I don't need a piece of paper for that. So I guess this is more of a "spend your life with me" proposal than it is "marry me" proposal. Maybe one day I'll feel differently, but I already consider him my husband.

So the ring just sits in its box, without even a glance. Why did he allow me to purchase it if he's not going to do anything with it? Maybe I'm just impatient but I find it odd. He never said anything about waiting for his divorce papers either - at least not letting it hinder "this" from happening.

So do I just wait? Do I ask him why he never even looked at the ring?