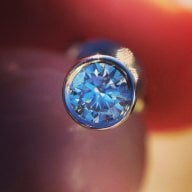 Joined

Jul 7, 2004
Messages

10,791
As a reward myself after hitting a 50lb weight loss milestone (it is not a pleasant situation trying to lose all this weight, especially when I was prescribed this diet...), I decided to FINALLY pull the trigger on something I've been wanting for almost a decade, but kept chickening out right before paying for 3 times prior. Seriously, I'd get to the point where we'd be handing the card over, and I'd freeze and need to have them hold it, and then I'd never go back. My husband did not understand what my deal was.
Well this time, I was NOT going to do that. I earned these bad boys. One per 25lbs! I was going to Chicago for a girls' weekend three weeks ago, and knew in advance I'd be making this little jaunt. I asked for suggestions of who to work with in the boutique, and called ahead of time (both several months and a few days) to make sure they'd have what I wanted, or could get it. They had two in store, in my size (S) that I was after and knew of one they could source that I really liked as well. They were put on the SAs hold shelf (Eleva), who was off the day I'd be there.
Because the friends I'd be in Chicago with are not exactly into indulging all my higher end desires, I made this a secret mission. I got a cab straight from the airport and high-tailed it directly to the Hermes boutique on Oak at Rush. I bumbled my luggage into the boutique, looking ever so not-elegant, and met with Patricia, who gleefully assisted me in trying on the held bracelets. She checked into the sourced option which at the time was looking unlikely, and I really did like the look of both on my wrist, so I took the two in store, with the agreement I could send one or both back for credit if my husband didn't care for either. He couldn't see the colors well in my photos in the texts. He thought the navy was black.... I knew there was one I love-love-loved, the blue sapphir/vert anglais, and the other I wasn't in love with but I liked, which was an aqua and teal one, as it was in my wheelhouse. I loved it's smooth leather, though. To conceal my indiscretion of making a secret stop before I got to the hotel, I had them shipped home, it worked perfectly. I hid the receipt inside my wallet all weekend without a clue as to what had transpired before I arrived to meet them. I came home with an EPIC third-degree sunburn, knowing I had a secret package on the way.
When I received the package, all beautifully wrapped Orange boxes inside the FedEx wrapping, I was so excited. I opened them carefully and showed my husband. He did not "get it". lol. He just said "I prefer the Navy and Green one--it's more you, too bad it's not Navy and Tan, then it would really be you. But they don't do anything for me at all. It's like a tiny, really expensive belt." lol He thought the bracelets were going to be the enamel bangles, which is not something I've ever considered. They're really pretty but I'd kill them in about 5 minutes.
But seeing them again confirmed for me that I didn't love the aqua and teal bracelet, and wanted the other one sourced. So I called the store, and spoke with Patricia, who informed me she could definitely source the one I wanted: Blue Izmir/Prune with Palladium HW. I overnighted the Aqua and Teal one back up to Chicago, and last week I received the Blue Izmir/Prune and it is GLORIOUS. I also love it with the Navy and Emerald, though I forgot to take a photo of them together. I can't wear them longer than a quick photo op til I heal, but I have something to look forward to!
Without further adieu:
First the shots from in the boutique



Sent from my iPhone using Tapatalk