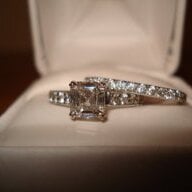 Joined

Sep 30, 2008
Messages

736
HOLY COW, WE BOUGHT THE RING TODAY!!!!! I am in a state of TOTAL shock right now! I''m so freakin excited I''m not sure I''ll make much sense, but I''ll try to tell you the story! (skip ahead to pics if you don''t wanna hear me ramble...sorry in advance!)
As some of you know, K and I have been ring shopping for about two weeks. We were using a jeweler in Naples, FL where K''s family lives. We had a 1.00 carat, F color, cushion cut on hold but I wasn''t very satisfied with the size so we continued to search and found another cushion at a jeweler in our home town. I was almost 100% sure I would end up with this stone but I had a few issues with it...it was a 1.18 (so not that much bigger than the other one) and a J in color - a big step down in color but not that big of a jump in size.
Well, this weekend we headed back to Naples to revisit the 1.00 carat we had on hold. I mentioned to the jeweler that lately, I''d been dreaming about asschers. I actually had a thread about this! If you''re interested:
https://www.pricescope.com/community/threads/have-you-thought-about-cheating.108609/
So he pulled out a 1.29,
E COLOR
, sparkly asscher that absolutely floored me. Problem was...it was totally out of budget.
Fast forward to Saturday night, I could not sleep! Dreaming about cushions, but especially the asscher. Ahhh...my head was a mess!
So today, Sunday, I asked K''s mom and sis (major diamond lovers

) to revisit the jeweler with me. Well turns out, mom, dad, sis AND K came along. This time we worked with the owner

who pulled out the baby cushion and the asscher. K''s family was immediately FLOORED by the asscher! I think the owner saw that the asscher was really speaking to me bc he said, "let me see what I can work out" A few minutes later, he comes back with a price UNDER our budget!!! UNFREAKINGBELIEVABLE!!! A bigger, better quality diamond for LESS than the other cushions!
After much deliberation, K and I BOTH knew this was the ring for me!!!
If you made it to the end of this story, you are totally awesome!
And without further ado...the pics! (I''m including the pics of me deciding what the heck to do since this was such a big part of it!)