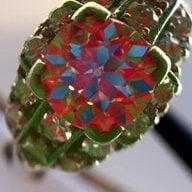 Joined

Feb 14, 2014
Messages

2,582
I have an engagement ring with a 1.05 H SI2 cushion mod brilliant (IGI gasp) (elongated~1.16). I really enjoy the stone, though it has a pretty flat crown. Being on PS has nurtured my slight obsession with jewels. So anyway, I got this ring 4-5 years ago and because it was top heavy, it would spin. I had sizing beads added, then filed down slightly. Then got a couple new/different engagement rings and apparently in time, somehow increased my finger size.
Now because I am unable to throw a couple dozen grand at a new, new, different engagement ring, I am debating whether to: a) file the sizing beads all the way off and continue to enjoy it in its existing setting , b) reset the stone into a new ring or pendant for that new, different look that I "think" I need/crave, or c) rehome the ring in situ, using the proceeds to get something else entirely.
The stone is very white and, though there is a crystal under the (huge) table, it is eye clean. It has nice scintillation and brightness, but not much fire. The existing setting allows a flush fit with my 10 stone band. I love the stone's shape and the facet pattern. That said, I also love pouffy tall crowns, tiny tables and chunky facets (think OEC, AVR)
I do like changing things up though (hence having 4 engagement-style rings). I tried to ASET scope it with my iPhone and think/hope? I had the stone slightly out of the funnel.
Which option might scratch my itch? Resize, reset, or rehome?