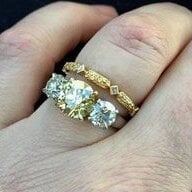 Joined

Mar 27, 2016
Messages

825
This is my first post after obsessively lurking for who knows how long!
I'd really love everyone's excellent advice about what to do with my engagement ring. It's an estate piece; a 2ct oval with split shank pave. Phone pictures attached- the stone caught the light strangely so they look a bit odd-also not sure why they're not orienting properly!The primary issues are: questionably secure pave & wear/breakage of the center prongs
I quite like the split shank styling and I think the numerous and fine prongs on the center diamond are lovely and unique, but I'm just not feeling like everything is secure. I've had several opinions from jewelers which ranged from "retip the prongs, everything will be fine!" to "it would be so labor intensive to secure everything it would be cost prohibitive", so I'm not sure I trust any of them!
I was thinking of resetting in a three stone (oval with half moons, maybe?) but am just a bit afraid I'd miss the current setting.
What are your thoughts? What would you do?