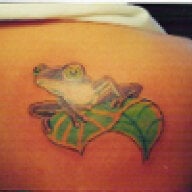 Joined

Dec 12, 2008
Messages

10,614
I have some time now to sit and type out a post.
Several years ago I got a round yellow chrysoberyl from Barry. It's 7.1 or 7.2mm. I *LOVE* it. I had it set in a yg/silver semi bezel ring from myheartmonster-now Mod Metal, on Etsy. I used inspiration from two rings and came up w/the design and am pretty darn proud of it (even tho it's very much not to everyone's taste!). The ring is flawless-she did a spectacular job on it. I've wished for a long time that I had gone all gold instead of silver, which is why I've been thinking to reset.
I've had tons of ideas rolling around in my head. The most recent of which was along the lines of the CvB Dahlia. I was thisclose to pulling the trigger and having DK make me something--D&T and I were actually both talking to him about the same thing we found out, tho mine would've been slightly different. She, however, went thru w/it, while I was still hemming and hawing.
Were I to change anything about the current setting (aside from going all gold), I would make the shank a little thinner. It's wide, like 5mm if I remember correctly. It's not horrible or anything, the width..I just wonder if the shank were thinner if it would showcase the chryso more?
So..I feel a little lost on the ring, what to do w/it. Do I see about remaking the same setting, this time in gold, w/a thinner shank? Maybe a different semi bezel/bezel design instead? Or--change it up entirely and go prongs? I go back and forth on the idea of having something different than my avc bezel three stone, to then thinking they should be similar in "vibe"..the chryso ring now was made for my right ring finger, and both my hands have similar finger size so I can switch this to my right if I want to use it as an alternate ering. (and I did wear the chryso as my ering until I had my avc ring done)
I just need to talk it out I guess?
[URL='https://www.pricescope.com/community/threads/chrysoberyl-semi-bezel-ring.160321/']https://www.pricescope.com/community/threads/chrysoberyl-semi-bezel-ring.160321/
[/URL]
[URL='https://www.pricescope.com/community/threads/barry-chryso-in-myheartmonster-semi-bezel.160596/']https://www.pricescope.com/community/threads/barry-chryso-in-myheartmonster-semi-bezel.160596/
[/URL]