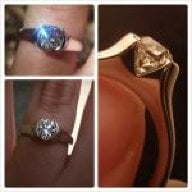 Joined

Oct 2, 2008
Messages

4,946
Timing help? Anybody?

We decided we want to put down our names for a ceremony space we toured last weekend! In order to do so, we have to tell the lady some details that we have no idea how to select.

You have to have a minimum reservation of 2 hours. We are going to go with 3 hours because it's not that much more costly and it will give us more flexibility if running late and/or for pictures so that we don't have to worry about rushing.

Well. We need to tell the lady what three hours to reserve. She also would like to know the tentative ceremony start time. We are thinking 11 am-2 pm for the reservation. I can't imagine the ceremony taking more than 30 minutes total.

We are undecided about whether we want to see each other before the ceremony to take pictures first so we can all go straight to the reception more/less together immediately after (reception at a secondary location about 3 miles/10 minute max drive away).

Help?