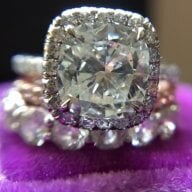 Joined

Apr 25, 2013
Messages

592
Has anyone ever replaced low quality melee with top quality in a piece of jewelry they otherwise love?
Here is the situation in a nutshell: I fell in love with a designer $$$ cocktail ring, so decided to find a knock off. And I did, and I love it, and it cost less then a tenth of its gagillion dollar counterpart. However it has was I affectionately call "mall grade " melee. Not black or cracked but what you see in mall jewelry- fairly sparkly I2 stones. For how much I paid I am fine with it- I have jewelry of all qualities and price points and know that you always get what you pay for. However, I am now wondering if it would be worth taking to my bench jeweler and asking if all of the hundreds of tiny stones (225 stones to be exact) can be replaced with much higher quality diamonds. What do you all think? And has anyone ever done something like this?
I am planning on taking it in for a quote but am trying to figure out my threshold. For example, if it's 500 bucks to replace everything it will be a no brainier. If it's much more than that, I am not sure.
Pics attached!