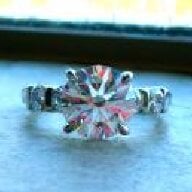 Joined

Mar 15, 2011
Messages

544
I posted a while back about my search for a new diamond for a replacement engagement ring. Well, I have finished shopping and have my new ring! About 3.5 years ago I lost my engagement ring (given to me in 2000). It was a 2.04 F/Si1 center stone with 2 x .25 sidestones in a platinum setting. I was so upset and to this day we don't know what happened to it. Honestly we think our dog (puppy at the time) might have eaten it. We live on an acre and it was a few days before we realized what might have happened so by then it was long gone (though we did try to go through the yard with a metal detector to no avail!, besides ripping the house to shreds!).
We got the insurance money and put it aside, as we were about to move overseas for 2 years (my DH is in the military) and we decided that when we returned to the states we would get a replacement.
I found pricescope when I first started looking and I have learned so much from you all! I found the diamond fairly quickly through Mark at ERD. I waffled back and forth about a million times for what to do with the setting. I have a .85tcw 5-stone diamond wedding band that was made to match my original e-ring but I wasn't sure I wanted the same look anymore. After looking around online for hours and trying on a bunch at my local jeweler, I decided to stick with what I have and get a new setting that was slightly different than my original one but still matching my band (since I did have a sentimental attachment to it, having worn it for the past almost 10 years).
I sent my wedding band to Mark so that the new ring would match the old in terms of profile height, width, look, etc. I loved the
WF
legato head and the
BGD
truth head and Mark had a similar one on his website on the "Isabella" ring so I requested that head style. Mark sent the CAD renderings and I was so happy with them and went forward. I received my rings yesterday (old band polished and looking new again!) and I am in love!!
New center stone stats:
2.27 RB
AGS 000
I/ Si2, totally eye clean (though you can see some crystals in the photos, I absolutely see nothing in real life at any distance)
CAD renderings: