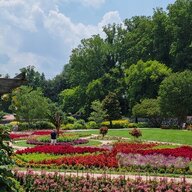 Joined

May 23, 2017
Messages

887
@HS4S_2

- we've now got both ends of the spectrum covered, haven't we? Between your rose cut beauty and my mrb sparkle bomb, we're The Cluster Sisters!!

Thank you so much,

@Vanilla Bling

! Are you enjoying your solitaire? I think it looks absolutely fabulous. Hoping mine is equally beautiful when it's done!

Hey there,

@canuk-gal

! I need them, too, so I hear you on that! I'm so glad you like them.

And I hope you're having a wonderful weekend!
I do believe we do have it covered . So happy you made these all wearable for you. I made a goal this year that I would only keep what I wear or can make wearable. So far it's going well but time will tell. It definitely makes me evaluate what is comfortable and also makes my heart happy. Rest up and I hope you are good as new asap!