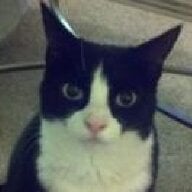 Joined

Aug 8, 2005
Messages

40,225
So we've done purchases we've regretted. Now let's do regrets for thing we've re-sold, returned or walked away from.
My biggest one is my mother in law's diamond ring. She describes it as a "spray cut" -- it's a transitional. It's about 1.2 carats D color and at least VS clarity (from the purchase papers and inspection). I don't know for sure about the clarity because I'VE NEVER BEEN ABLE TO GET THE THING CLEAN ENOUGH. That's how amazing this diamond is even with 50 years worth of grime and oils it's still bright and shiny and beautiful.
I could have cleaned it since then but the setting is in such worn shape that once I examined it I was pretty sure the 'ick" was acting like glue and making the setting safer.

WHY did I pass it up? I wanted a square cut. I didn't want a "round" and didn't know anything about old cuts except that her's was different in a very nice way from most rounds but it was still a round.
I love my asscher especially now that it's the reigning empress of my setting. And I am pretty sure that if I'd "settled" then I would still gripe about how I didn't get the square cut I wanted. And since my setting is the reason why I ended up on PS I'm not sure I would have even found this place.
But a couple years ago she gave it to my SIL who only sees a big center stone. She wears it to weddings and won't listen to me about getting the setting fixed. And she won't let me buy it from her. DARNIT.
So that's my "one that got away" story.
What's yours?