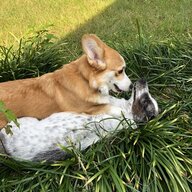 Joined

Mar 19, 2018
Messages

13
Long time listener, first time caller
I recently bought a lovely OEC ~8.3mm that I'm looking to set as a right hand ring. (I'm in my late 20s and single, but wouldn't mind rocking an engagement-style ring. Can't let convention get in the way of living your best life, right?)
I'm looking for a skilled jeweler in NYC (local to me, because the idea of shipping a diamond makes me nervous and I prefer face to face communication) who can source a plain solitaire setting in 14 or 18k yellow gold and do some lightweight finishing work. By "finishing" here's what I have in mind:
carving/sharpening the prongs to slim them down and create a slightly textured 3-dimensional look like this.
resizing, probably, because I'm a 3.75 and I doubt stock settings come in that specific size.
I'd like to keep this under $1000 all in. I'll likely want to do a reset in the future after I've had some time to think about a forever setting. Please let me know if my budget is unreasonably limited!
Really really appreciate any recs and pointers. I've learned so much by lurking this community, but I probably wouldn't have gotten into $$diamonds$$ at all if I hadn't discovered Pricescope, so...