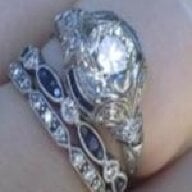 Joined

Aug 25, 2009
Messages

7,864
This is a repost from Rocky Talk but I think some of my fellow gemstone lovers could help.
I have decided to forgo my stacking rings project as hubby told me I could have the green light for getting some earrings that I have wanted to have made pretty much since we were in college.
Remember CCL's halo detachable earrings? I would like something similar in the sense that they will detach so I can wear them different ways. I think I would like a pave/ micropave halo around the main stones. I know this is Leon's area of expertise but honestly I just don't really want to work with him.
I don't have the gemstones yet but I plan on sourcing them myself. I need to figure out if I want to do kite set diamonds on top with long skinny pears that dangle off or if I want to do a suite of cushions or asshers with small OEC's inbetween to seperate them (also be a detachable point on the earring). I would like to do the project in white gold to also help with the cost. Right now I'm thinking of getting quotes from JbEG,
WF
, and
BGD
. Can anyone recommend any other vendors who might be capable of doing something like this? I know CCL had his done at Ocean but I'm not sure what vendor that is, I"m guessing it is listed as Pearlmans?