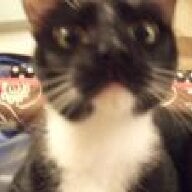 Joined

Jun 3, 2011
Messages

210
Hi everyone. I posted a few days ago about trying to choose between and 1.66 SI L AVC or a regular 1.72 SI V antique cushion. I put the AVC on hold and my husband and I decided to go ahead, purchase it and have it shipped to us. We figured that since the AVC was a couple thousand less in price and they were close in dimensions, I wanted to see if we could get on board with a warmer color. Well, the package arrived today …. and …. I think we have a winner.
This baby sparkles like nothing I have seen in any of the stores I have looked at diamonds before. I love the big, bold, chunky flashes of light and pastel colors. At times the stone looks really white, but you can definitely see the warmth. More often she looks creamy white. My husband (who knows nothing about diamonds ) said the stone looked like it was lit up. I asked him what he thought of it and he just said it is nice, but he doesn't care about the stone, he just wants the girl wearing it to be happy

Basically, he is leaving it up to me.
I figured before I made a decision I would ask my two daughters what they thought of the AVC when they got home from school. Emily – age 12- walks in and says "cool, looks good" – I think she would have been more impressed if I presented a giant Yo-Yo. Katy, age 14, loved the stone. She was the one who picked that stone & color off the computer when we pasted a bunch of AVC's in various colors next to one another. She must be partial to warmer colors. She and a friend that was over didn't think the stone looked yellow, they loved the light show it seemed to give off in the sun, and they told me I would be nuts if I sent this one back.
I will watch her for the next few days, but long story short I think I will be keeping her. Now time to choose a setting ….
Here are just a few pictures I took today with my old little camera - (not sure I did the stone justice - my photography skills leave a lot to be desired)