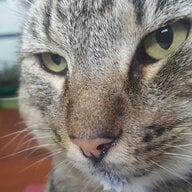 Joined

Apr 30, 2019
Messages

19,241
I didn't think anyone would respond, so thank you all. I may have missed a lot of details, which, by the way, I'm still learning. I'd also like to share that if you don't have the right needles, it will be hard to get the thread through the holes. A very thin needle will help you do this.

I don't know which is better, but I think the one that saves you time is better. But in the end, it all comes down to tying knots between pearls. I also used extra-fine thread, which makes the knots smaller and prettier, but it broke easily when I tried to make a long and large pearls, heavy necklace, like an opera-length one. So, I use size 30 thread because it would be bad if the necklace broke while I was wearing it.

For the French wire, you can buy it online. Just get one that is 1.0mm in size. Getting one that is bigger is fine, but it might not fit in some clasps.
Thank you
im doing my best to try to process all this
At least all this great know how is all tucked up safe in this thread for when i come to use it
I have a set of beading needles here somewhere - assorted sizes