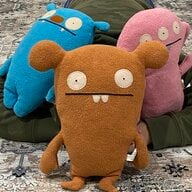 Joined

Oct 24, 2012
Messages

11,464
Regarding the suggestion of involving her more, and the solitaire setting, without delving into the details, I do think it will suit her the most and the setting which she would prefer. The beauty of the approach is that she can completely scrap my idea and do something completely different if she doesn't like it, because I will only be presenting the idea, and not the finished product. No money goes to waste. Only thing wasted will be my time and effort in coming up with the design (reinventing the wheel, as it seems). I'd like to involve her, but not to the extent that she draws from scratch and I just sit back and do nothing. I do have some comfort about the solitaire.

As for the shop, they've made a reasonable name for themselves locally over the past 15 years. Their work product images on their website appear decent to me. I'd be happy to PM (if that's available, I don't actually see the messaging option) their details to anyone here who would like to take a look. Just don't want to post it publicly here, as this thread wasn't intended to name and shame anyone. I would of course appreciate any of your experienced views.
It seems you are quite specific about prongs. I am guessing that you haven't seen an exact example of what you want with the jeweler that you are working with because if you did, you sure wouldn't need to go through this CAD nightmare. (Personally, I hate CADs cause they are a terrible representation of the final product. CADs usually do NOT show claw prongs. You just tell a jeweler that you want delicate claw prongs and they make it that way after the casting is done. Get it?)
Anyway,
@Cerulean
linked some pictures of settings by
Victor Canera
, and he does amazing work, hand-forged platinum pieces that have the most delicate prong work ever. IMHO, given how nitpicky you are, you just need to find a jeweler that has ALREADY made a setting with the prongs you like that meets your standards and point to a picture (real life, not CAD) and say "I want that".
I am not trying to offend you by saying nitpicky. Many of us on PS are. I am. I'll own that. That's why you need a vendor who already does what you want. Then you won't need to micromanage in fear of them not meeting your standard. I'm a perfectionist, so I need someone who is already perfect for my standards.
What are pictures of what you think are beautifully well done rings? Can you post 5 of them here and specify exactly what you like about the setting? I will share pictures of what I think are beautifully well done pieces.
Victor's thread: Lots posted here. I suggest going through it to examine prongs and other details.
I thought it would be great to have an archive of all the gorgeous
Victor Canera
e-rings on PS. Please feel free to add your own, and any other VC rings you find! :naughty:
Steven Kirsch also does beautiful, delicate rounded prongs.
I could not find a thread that consolidated all of Steven's work, and it's so hard to recommend him without a thread that pulls it all together. So PSer's, please help fill in this thread... https://www.pricescope.com/community/threads/steven-kirsch-glacier-ring-with-pictures.225977/...
I have had rings made by both these vendors so I can personally attest to the quality of their work.
And don't worry, they aren't cheap. You can easily pay $2K-$3K for a solitaire. Victor probably won't set your stone because you didn't buy it from him, but you can ask him because he does make exceptions. Steven does set outside stones. You would need to ship it to him in New York.
The really good artisans probably won't want to work with someone who specifies down to the fraction of a millimeter what to do where. And that's because they don't need your advice/input. They may ask you how wide you want the shank to be, what "kind" of prongs you want, claw v. tab v. rounded. Do you want your stone set low, high, medium? Do you want a donut or not? But that artisan will make the setting in the most flattering proportions to your stone. That's what you are trying to achieve with those 50 pictures and 2 hours of consulting for a basic solitaire. The really good ones already do that.
What country are you in? Maybe some PSers have some recommendations of good artisans. But honestly, at this point, you and your potential vendor are not a good match. Cater breakfast or lunch to their store and thank them for their time. But don't force the situation. It will cause more heartache and stress for all, when it doesn't turn out the way you want. They need to scrap it and redo it for you. You end up taking up more of their time and manpower, and you feel angry/guilty for it not being right but then still want it to be done right. You're not doing any one any favors by sticking it out.
If you share your vendor's details, we can tell you better whether your expectations are reasonable for the store you are working with. It's not a "name and shame". LOTS of vendors cannot do beautifully executed prongs. I would say with confidence that 80% of all vendors cannot do prongs the way that Victor and Steven do, so it's not some huge shame on the vendor.