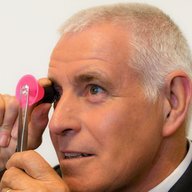 Joined

Aug 15, 2000
Messages

18,071
A fantastic new website has been established by Jasper Paulsen Mr Paulsen contacted me and some others on the weekend with this link to a complete online version of 'Diamond Deisgn' written by Marcel Tolkowsky and published in 1919.
http://www.folds.net/diamond/index.html
This web edition contains the complete, unabridged text of Tolkowsky's landmark book, complete with all of the original illustrations. Even the math errors have been retained.
.
But most importantly this edition also has editor's notes that correct the math errors, and a claim that contrary to popular belief, Tolkowsky's model actually provides a range of ideally cut diamonds.
Jasper explains how the best crown angle and table size depend on the pavilion angle. he has calculated a table of these proportions that broadly seem to agree with HCA and the results of the Moscow State University (MSU)
and Gemological Institute of America (GIA) studies.
Regards and happy readingGarry HollowayPS be sure to print it out- dont try to read it on-line, because you will need to write notes on it and that is real bad for a computer screen.
I am 1/2 way through and I have to say it is quite a good read so far.
http://www.ideal-scope.com
http://www.diamond-cut.com.au
http://www.preciousmetals.com.au