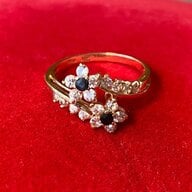 Joined

Oct 31, 2021
Messages

603
I know what everyone's here for, so let's get that out of the way first.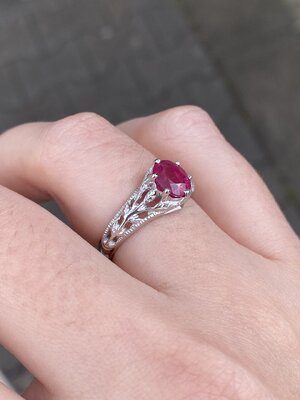 There will be more to come.
This is 1.75ct Burmese ruby set in 14k white gold custom made ring. The ruby thread is
here
for anyone curious to witness the short-term madness and obsession that ensued surrounding the purchase.
The ring was designed by my local jeweller based on a chaotic collection of images and rough sketches I presented him with. I had the general shape nailed down, but that's basically the only thing I was decided on. The rest was random ideas of floral motifs, engraving, filigree, and vintage-y feeling (perhaps more edwardian-leaning). In general I lack the necessary imagination to be able to flesh out a design by myself. The jeweller compensates for that, he is able to locate the core of my desires and build it up to something that I usually instantly love.
The design process with him is pretty different to what we're used to seeing here. There are no CADs, he creates his pieces by hand. He takes my ideas and then carves them out of wax. Casts them into gold and then calls me in to confirm if I like the result and to discuss details in the design. So that happened last week. This is what the ring looked like straight out of the mould, just a rough, unpolished shape of the general idea behind it: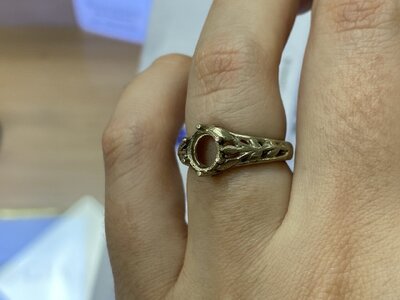 It was exactly what I wanted. Leaves and branches, slight assymetry, 6 prongs flush with the rest of the design. So we started working on the minor details - the leaf veins, the similar to milgrain texture on the sides, the slight curves on the gallery between the prongs. I was there for 2 hours while he was working, adding every little detail after we'd gone over it. Here are a couple of WIP photos: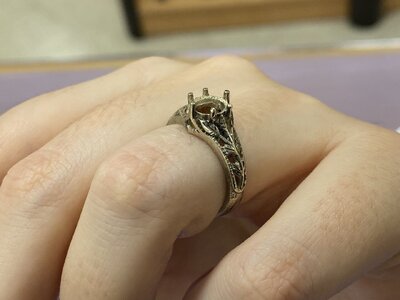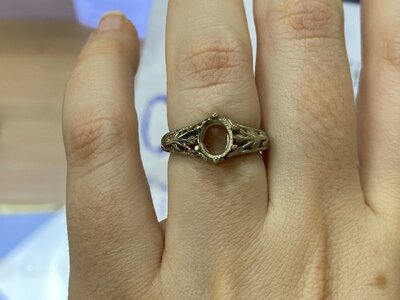 After we'd finalised the idea behind every single detail, I left him to finish it, polish it and mount the stone.
Got a call yesterday to go and pick up the completed ring. In a way, in addition to being precisely what I asked for, it's also what I didn't even know I wanted. My initial inspirations revolved around vintage designs emanating old-time elegance. Yet this ring seems... not exactly modern, but also definitely not vintage. Ethereal somehow. My friend who saw it yesterday said it looked a bit elven to her and I agree there is some sort of fantasy element to it. The branches move gently over the sides to allow leaves to spread over and hug the centre stone. I really couldn't be happier with the design.
And the ruby... well, it's precisely the colour that I love and has that magical glow in the sun that I coveted. What more could I want? Although it has a distinct pink tone to it, in warm light indoors the pink gives way to brilliant and flashy red. So far it looks good in any light I put it under, aside maybe from fluorescent light, which kills its buzz a little.
Ok, ok, enough with the boring talk. I promised more pics, after all.
On an overcast day: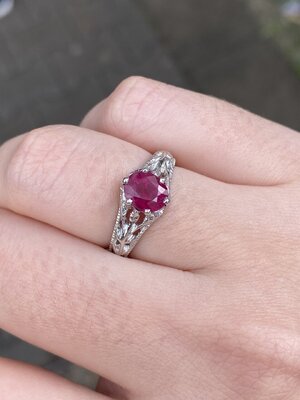 In sunlight: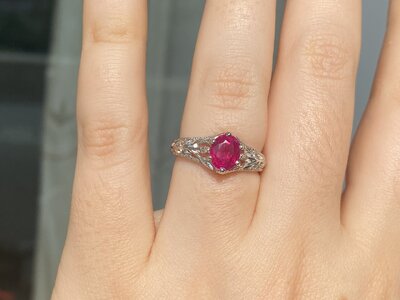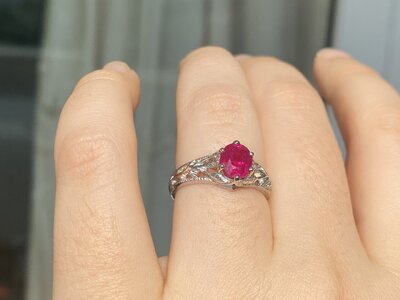 Indoors during the day: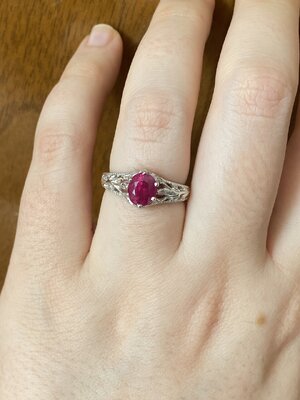 In the worst possible light I have at home: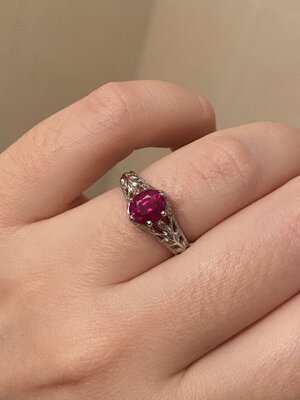 And to wrap it all up, with a cat
: