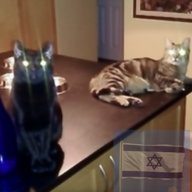 Joined

Jun 8, 2008
Messages

41,994
Aaaand rain is back in the forecast tomorrow. One day break. OK we will take advantage of that one day and enjoy the heck out of it. The freezing cold doesn't scare me. Not when I have heat packs for my hands and toes.

The pets went into the garden, and swiftly came back inside.

I don't mind the cold or even snow (until it melts and makes a mess), however, the wet stuff is not nice.

DK
Yeah. I keep telling myself OK we can get through this. There are advantages to each season. We take the good with the bad. But I wish we would get more sun than we do this time of year. Tonight most of the US turns their clocks back so the days are even shorter. But once December 21/22? comes along the days get longer again woohoo. So only a few short months til then.