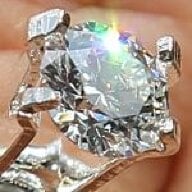 Joined

Apr 25, 2014
Messages

7,641
I guess this is specifically aimed at Texas Leaguer, but as we can't PM...

lol
If I may ask some annoying questions quickly... They're not specifically about diamonds but they are about the diamond buying process through a PS vendor, so hopefully this is the right forum to ask them?!
So, if that's okay, please may I check...
- if and when copies of photo ID and credit cards and signatures are submitted by Fax or email during an order process, may I ask if these are stored electronically in a secure filing system? Or are they stored in a paper format in a suitably secure filing arrangement?
- are the electronic / paper copies of the documents destroyed when the order is complete and receipt confirmed? Or after a period of time? Or are they never destroyed?
Apologies for the annoying questions
I'm doing my damnedest to purchase something from WF but technology is doing its very best to stop me from doing so

so the 'old school' method may be my only option, but I have my own annoying personal principles (paranoia?

) that means sending photographic or any other identifying material electronically or otherwise to any given third party is a very last resort measure only!

Many thanks in advance for any assistance anyone can give!