Hey Everyone,
This is my first time posting any topic on the pricescope forums. I have been thoroughly checking them out for the last couple of months but I figured it was time to get some information.
I am going to be proposing to my GF in the next few months and wanted to make sure that I had everything ready to go well in advance. I have recently been shopping with my GF and looking at rings and she really fell in love with a
Ritani
"Endless Love" ring. The problem is that it is a little out of my price range. It''s about $7,000 and I am looking to spend closer to $3,000. The
Ritani
has a platinum setting and a .80 carat center stone.
Here is a picture of the ring: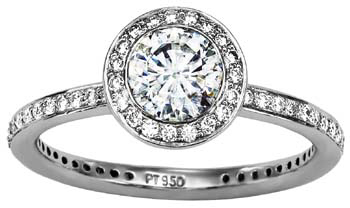 After talking with my GF she has said that she would want to get the ring in whitegold rather than platinum and also does not want the diamonds down the side of the band. She thinks it would be more fun to add a diamond on each side every year we are married.
So here is my question. Robbins Bros is being great and said that they could make a custom ring exactly like the
Ritani
one, without the side stones, etc. The thing is they want to sell me a .50 carat MSID diamond. They say that it will appear to be almost 3/4 carat in size and not lose any quality. They want $1790 for the diamond. It is a VS2, "G". I''ve read on here that MSID aren''t really as bright as you think and that they only appear "bigger" because they aren''t as deep. My girlfriend just wants to get a diamond that is very clean and white in color. Do you think I would be better off getting a standard round diamond that is .50 carats (which I assume is cheaper) then a Robbins Bros. MSID? I want to get the highest quality and largest diamond possible for the money I want to spend on the diamond which is about $1300.
I think with the pave diamonds around the center stone that the diamond and ring will look great, and large with a .50 carat center stone. I have just heard so many questionable things about the MSID''s that I think it would be smarter (and cheaper) to get a standard round diamond in the VS2/VS1 and Color G,H range. Basically, am I paying a markup just because I am getting a MSID diamond from Robbins Bros.?
Also, are you able to haggle down a price on diamonds? I would really like to use Robbins Bros because I love the finance options and also the warranty that they provide. They have also treated me great each time I''ve been in there.
Any input would be appreciated. I know this is confusing so if you have any questions please ask and I''ll respond as soon as possible.