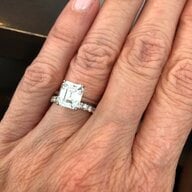 Joined

Feb 12, 2011
Messages

4,713

I think I have read here that RB's are the most expensive cut (assuming cut, clarity, color, carat and quality are the same on two stones). Two questions...
1. Why?
2. What cut is the closest in cost/carat to the RB... and Why?
I know there are tons of variables here.. but I have seen in a number of posts where RB's have been referred to as more expensive than say a Princess and maybe I am way off here.. and say a Fancy Cut...like a star or the octagon I saw posted here recently is way different in price etc.. but just thought I would ask... just a point of interest as I hang out here reading the posts...