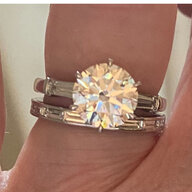 Joined

Mar 31, 2018
Messages

9,916
Thanks

@MamaBee

I do have an open cuff bangle and it fits very snugly. I don't think I could have a loose one.

Can't wait to see it on DK's insta or I'm sure you'll share it here.
@maryjane04
That s why I sent it back...I think with an open back it needs to fit snugly. I decided to just have it closed with a clasp..