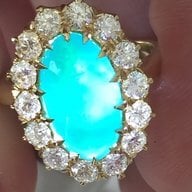 Joined

Aug 17, 2012
Messages

488
Soooo, I was chatting with my jeweller yesterday about diamond side stones. I said I liked trillions and trapezoids.
He told me in no uncertain terms to not consider trillions at all because the slightest amount of dirt affects their brilliance more than any other cut
I have never heard that before. I know that the performance of all diamonds and gemstones is affected when they are dirty. Certainly Ideal cut diamonds seem handle the dirt a bit better and still manage to do their sparkle thing but overall dirt and grease impacts similarly on all diamond cuts. At least, that's what I thought.
If he is right - what is the cause? Are trillions generally badly cut? Is the shape that stops refraction? I did say "what about brilliant cut traps then - they are the same'ish shape with the bottom lopped off". No he said they are fine - they perform better.
I would love to hear opinions, please.