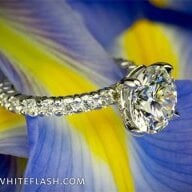 Joined

Jan 30, 2007
Messages

807
Hi everyone,
I recently purchased a stone from
WF
details are in some other threads in which I asked you all for expert input and I thank you for that as it really helped me make a good decision!
I chose to put the stone a 2ct
ACA
princess in a eternity setting which has about .90pts of RB''s in it also
ACA
from
WF
and it is platinum.
I had posted on here before about the little holes on the underside of rings and what exactly was the purpose of them and many of you replied that they make the ring much easier to clean.
I noticed that the pics
WF
had up of the setting that I chose did not have them and asked the rep about it and was told that if I wanted them I could have them but that they weren''t a big deal.
Anyway I placed my order and forgot at the time to tell the rep that I wanted these holes but I called her after a day or so and asked whether it was still possible to get them done but if they were into production and it would mess things up not to worry. She said she''s check and get back to me and she called later and told me that yeah it would be a problem to put them in as I did not tell them in time and that actually NOT having them makes the stones more secure on this type of shared prong setting.
I''m not upset or anything like that just wanting to know if you all think this is correct that the holes actually may make shared prong stones less secure.
I know many of you ladies have gorgeous setting with shared prong and I''ve seen the little holes so was wondering if anyone has had problems with stones coming loose etc..
BTW it is killing me knowing that my ring is almost made but not shipped yet I don''t know what to do with myself until it comes and the big event happens...I even have dreams about it!!
Thanks for your help in advance