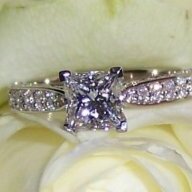 Joined

Jan 15, 2007
Messages

144
I have been doing a lot of research on diamonds as we are almost ready to buy an engagement ring. I have seen people discuss using the "Cut Advisor" to check a diamond and see it if is well cut but I went to try it out on a diamond that I have selected and it says it is for round diamonds.

Is there a similar way to check the specs of a princess diamond? I have not come across any program or calculator for princess cut specifically, does one exist? If not, then how do I know how a princess cut measures up, so to speak.

Any advice or information would be appreciated! Thanks!