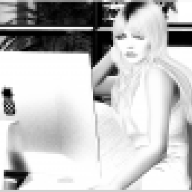 Joined

Jan 10, 2016
Messages

85
Hi everyone, thanks to those that have helped me thus far.
Last week, @Lovemybling recommended I take a look at a ring Jewels By Grace has for sale based on my criteria. It's lovely, my BF likes it also and we're contemplating it being my long awaited for e-ring. It's under what we budgeted overall ($3K max) and I love pre-loved!

Anyway, one thing about it has me questioning if it's right for me. The setting is made out of palladium, which I have no experience wearing. My understanding is that it's softer than platinum, and subject to getting marked up. I happen to be fairly hard on all things, including jewelry. I do have concerns about it getting too dinged up.
Does anyone here have experience wearing palladium for many years able to comment? I mentioned this in my other thread but realized it will get more notice as a stand alone question.
Here's the ring for informational purposes:
http://www.jewelsbygrace.com/signed-pieces/rings-bands/1-09ctw-round-brilliant-cut-diamond-3-stone-ring-by-ritani#.VsN5yfkrKUk
Also, I showed it to my two sisters who said it was "too circular" for their tastes. I thought at first they meant the center stone itself, but no they mean the setting. They think the stone(s) look really nice but didn't like the round stones on each side of the larger round one. I know everyone has their preference, but since they both said the same thing I'm wondering if I'm not seeing something they might be. Any one who would like to chime in on this too would be appreciated.
I'm still looking at new stones/settings per other suggestions but the one JBG has is pretty much my style completely. I wrote them this morning but since there's a time difference not sure when I'll hear back from them.
Laurie