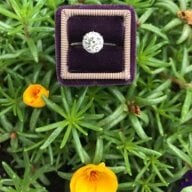 Joined

May 25, 2016
Messages

308
How did you decide?

I would like fine milgrain to surround the stone. I am having trouble deciding how thick the metal should be overall.

On one hand, I would think making it slightly bigger/thicker would make the stone seem bigger?

On the other hand, I imagine this is the part of the ring that comes into light contact the most - so maybe more metal means it could ding or flatten over time and look uneven? Has anyone had this issue? I was very careful with my last ring (four prong, no bezel) but daily wear is going to cause...light wear.

What is the safest bet? Or rather, how did you decide? I know that you run the risk of dings with any type of ring.

I guess I am wondering if this is pure preference (as long as it is safely constructed), or if anyone here is like "yeah, in hindsight I'd totally do XYZ."