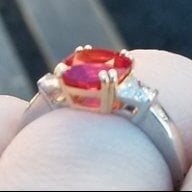 Joined

Nov 3, 2009
Messages

7,589
I do not know if this is the right forum to post this question. But since it is not, technically, about jewelry, I decided that people here might help me as well...
Bottom line is, some jewelers accept client's own gold. Not necessarily scraped 24-ct, but 14 and 18-ct as well.
During my last trip to Russia, my father gave me 6 gold fillings. He was wearing this semi-prosthesis but now all his teeth have been extracted and he is wearing dentures and does not need the fillings any longer.
They are very good and heavy, but there are remnants of the cement inside. I tried to scrape them out of the fillings, and failed. The cement has hardened.
Now surely someone has come across this problem. If I send the fillings to a jeweler (and it is a good idea, because the gold is of the same carat), they have to be free of cement. They have to be weighted, too. How does one scrape this thing out of the fillings? Are there any solutions to be used that will not harm the gold?
I thought about going to my dentist and asking him to do it, but my dentist will no doubt charge me an arm and a leg plus he runs such a business! Not a single free second, he is clearly a businessman more than a dentist. My prior, better, dentist, does not accept insurances and is incredibly costly. So I have to turn to PS because I never ran into this problem before... I thought about buying a burr with an abrasive tip but again I am afraid to destroy most of the filling because I do not know how to use it.
Any advices will be welcomed. The jeweler said that she never had an issue of porosity when melting as long as all gold was of the same K.
On a side note - in old time, they used gold or platinum crowns in Russia. I wish he used platinum.