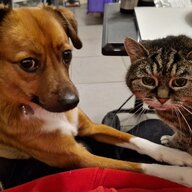 Joined

Jul 7, 2013
Messages

5,376
Hi peeps,
I do not know much about diamonds except what I like in 4Cs and shapes, and would like some advice please. More out of curious than anything else.
I measured my mum's near 1.9ct MRB, took many measurements using a pair of calipers, and found a difference of 0.11mm between its narrowest and widest points, 7.96 to 8.07mm respectively.
I checked the MRBs available for sale using PS search tool, and discovered not all round diamonds are perfectly round.
Considering this stone is over 40yo, I am not bother if it not being perfectly round, as it is round enough to my naked eyes.
Just wondering what is the acceptable tolerance between the smallest and largest measurements for a stone to be considered as a round please.
The depth is 4.89mm in case anyone is interested.
TIA.
DK