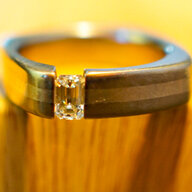 Joined

Feb 18, 2011
Messages

119
So I'm pretty sure I've found the right diamond and have reserved it while I figure out how all this works. Could someone walk me through what the steps are for the various paths that could end up with me having a nice, appraised & insured ring in hand? More importantly for these three options...
a) purchase stone and setting from the same online vendor?
b) purchase stone from one vendor, setting from another vendor, and somehow coordinate things between them?
c) purchase stone from online vendor now and setting at a later date from elsewhere?
Presumably a) and c) are the easiest options...when completed ring (a) or loose stone (c) comes in, I get it appraised locally while still within a return-policy window. While b) would seem to be a viable option, I imagine it'd be more complicated.
And for what it's worth, while I'm sure there's a good reason that PMs are not an option on pricescope (second hand sales come to mind), they sure would be nice for those of us with "curious" partners who've also found the site, as my questions would be much clearer if I could provide specific details.
TIA