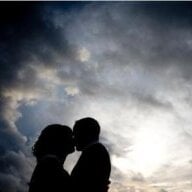 Joined

Nov 5, 2007
Messages

7,353
Hi mamas! Things are still pretty crazy around this house, so I'm sad that I haven't been able to keep up with you since H was born 2.5 weeks ago (what?!).
Right now our biggest hurdle is nighttime. She will eat right before she gets put down, but will usually wake up when she's being swaddled, and poor DH sits up with her for an hour or two until she falls asleep again. Then she'll poop and have to get unswaddled, changed, and reswaddled before she falls back asleep. Ack! It's a loooong process. Last night she pooped 4 times in 40 minutes!!
There HAS to be a better way, right? We finally got a noise machine yesterday, which she seems to like, but she still needs to be asleep before going in the pack-n-play or she'll scream 2 minutes later.
MP, H has the same Houdini abilities to break out of the Halo. You can hear her grunting as she works her arms out.
I'm wondering if we should abandon the swaddle altogether and leave her arms out!
BF-ing is still kind of a crapshoot for me. It was horrible the first several days, then we worked it out. Then we introduced a pacifier to calm her during fussy time and kind of regressed a bit. But it's tolerable enough for now and I've been pumping a little bit. She only goes 10-15 minutes on one side every 2 hours or so. Ooh, speak of the devil, she's awake!
Catch you guys more soon, I hope! Just reading this last page has been helpful!