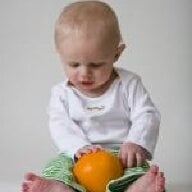 Joined

Aug 17, 2007
Messages

1,829
Burk- What a great picture! But wow, poor little guy. Sounds like you are dealing with a LOT over on your end. New house too, right???? How is T handling everything? I am going to add you to the nominations for Super-Mom, along with Viz, Fiery, Mandarine and Ginger.
NOT that the rest of us aren''t super, but you know, I can''t claim to be keeping it all together with multiples/sickness/never sleeping/infections/moving houses/older kids.
Phoenix- I meant to respond to you earlier. First, and most importantly, Claire is gorgeous!!! Is her hair red???? Or is it just the picture? Second, you are really really funny. I mean, your posts crack me up. So deadpan and hilarious, really. You maintain a great sense of humor throughout it all. Third,

on the DH this week. Sounds like he is having some post-baby identity issues? It''s normal, I definitely went through it, but maybe he needs to talk to someone. Sounds like he is feeling threatened by his loss of his "old" self and is desperately trying to keep that self alive. It sucks but your life does change post-baby, no way can you keep your "old" life. And the sooner you realize that and let it go, the more you can begin to enjoy your "new" life. And yes, that''s WEIRD about the houseguest. DH sometimes invites people over without thinking/asking and I get annoyed, BUT it is like his sister or father, so I can''t really say no.

But sometimes DH''s don''t realize what a disruption and what extra work it is to have people in your house. But a STRANGER? No frakkin'' way. And no, he shouldn''t be given a CHOICE as to where to stay. If I were you I would sweetly welcome him into your house, lead him to the basement, and say, "I hope you don''t mind staying in the basement, but this is where we put guests now so that Claire doesn''t wake you up." Or something that basically doesn''t give him a choice, and also sort of sounds like you are doing HIM a favor. Whatever. Weird of him to want to stay with you and a new baby.