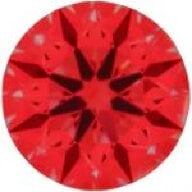 Joined

May 9, 2014
Messages

307
Hi again gang
My friend's sister in law is diamond hunting this time and would welcome your help in this endeavour. Diamond will be in platinum halo setting.
My understanding is that you basically need an ASET or
Idealscope
to tell much because there are no cut grades for cushions with GIA and no math we can do as a negative selection tool as we can do with RB cuts. However I have read that we generally want to stay below 70% for table/depth but not sure how much weight this should take. Obviously we would like a good spread for the weight.
Specifications are as follows:
Budget: up to USD 5,200 (wire payment available)
Size: 0.7ct and up
Colour: G and up
Clarity: VS2 and up OR Si1 with inclusion which will be fully hidden by halo setting (needs to be eyeclean any distance any angle once set)
Cut: something close to H&A quality but not necessarily have to be H&A
My understanding from checking various vendors:
HPD
- does not stock cushions
WF
- does not stock
ACA
or premium selection range for cushions
BG - does have a BG range for cushions
JA
- can pull 3 ASET images but not seeing anything promising from their current inventory
GOG
- their website has changed and is now hard to navigate. Is their consignment section gone?
BN
- currently leaning towards this vendor as they have a signature range of cushions with images
Are there any other vendors who can provide GIA/AGS graded stones and provide
Friend's sister is currently being tempted to purchase a ForeverMark branded cushion with a DeBeers grading report but my understanding of this is that this is overpriced similar to HOF bradned diamonds and I am unfamiliar with DeBeers grading reports and query their conflict of interest in mining and grading their own stones. Hence I am trying to push her away from this avenue and towards something providing better value.
Any and all input greatly appreciated.
As to my previous stone which you guys were very helpful in providing input, ended up giving it to my mom as she never had an engagement ring and she loves it. C'est la vie.