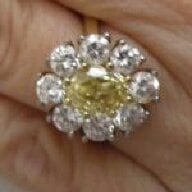 Joined

Feb 11, 2012
Messages

160
I am getting my Yellow Intense FCD! and trying to find someone to set it in a short time frame, which seems pretty much impossible...

Question about the setting. Some jewelers suggested a YG color enhancement cup.

Obvious pro:

- it enhances the color of the paler yellows. Is this still true with Yellow Intense, or is the benefit of a cup getting marginal with higher color saturations? Would a YG bezel achieve the same result, or better?

Obvious cons:

- it adds a bit to the price, but probably not in any significant way considering the cost of a custom setting.

- it is supposed to be invisible. Problem is, even with my far-from-perfect vision, I can tell at first glance in photos which stones have been cupped, as the edges of the cup clearly peek from under the stone, esp. with plat/WG settings. And here I am talking of rings set by the most reputable designers, not just run-of-the-mill jewelers. True, this is on a magnified pix on my computer screen, but I would be hard pressed to see an I3 inclusion in a stone, so the cup must be pretty glaringly apparent. I have never seen cupped diamonds in person... Are cups really invisible to the naked eye?

- Does the cup affect the diamond's sparkle as it has to impede the flow of light?

Sorry for the long post and many questions. Many thanks in advance for clarifying this!