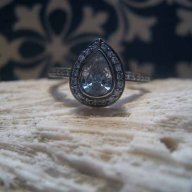 Joined

Mar 13, 2009
Messages

33
hi everyone!! i just asked this question in my picture thread, but i thought i would make a new thread just in case...
ok so here goes my neurotic goofiness...well i was just looking for some perspective on the overall shape of my ring with the halo surrounding the pear.... i really wanted the halo to emphasize the pear shape... i guess what i''m trying to ask is if anyone thinks the halo makes the overall shape look too plump or does it keep the pear shape in tact? i think i''m just being goofy or maybe fishing for reassurance...lol
but either way i would really appreciate some insight!... thanks so much again; i said it in the other thread, but i''ll say it again- everyone here is so sweet and nice and encouraging... i love it!!!