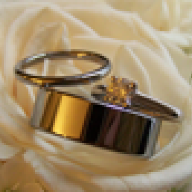 Joined

Mar 17, 2008
Messages

802
Please note: I haven''t talked to the vendor about this yet, I want to make sure I''m not crazy first!
Yesterday I received my newly upgraded diamond. It is set in a simple 18kt white gold solitaire with platinum prongs. When they put in the new diamond, they had to re-do the prongs so they would fit the new diamond, but the band was the same.
The diamond itself is gorgeous, but I noticed immediately the prongs looked... yellow? Definitely not what I remember them being. They almost looked burnished. It is subtle but definitely there. I tried to capture it by film but it didn''t come out very obvious (I''m definitely not the best photographer in the world).
So my questions are:
1) Am I crazy? Does anyone else see this?
2) Are the prongs platinum, and if so, does platinum get to be this color?
In the picture, on the left is my new ring, on the right is my engagement ring from Kay, also 18kt white gold band with platinum prongs. Can anyone else see the difference?
Thanks!