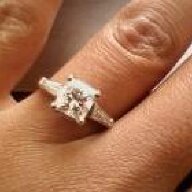 Joined

Feb 11, 2009
Messages

9
Hi everyone. I've been lurking on the boards for awhile, and since you all are so knowledgeable, I figured I'd see if you could give me some advice.

I currently wear a 1.88 carat princess cut engagement ring with tapered baguettes. I love my ring, but I've been having a hard time finding a wedding band that looks right with it. I love the delicate look of micropave bands, but I don't like how they look with my e-ring. Lately I've been seriously thinking about re-setting my diamond into a micropave band, because I love the look of eternity wedding sets.
I would want my diamond set in a simple prong-set micropave half eternity band. The thinner the band, the better. Right now my setting is platinum, but I figure since the diamonds are basically all you see on a micropave setting, white gold would be fine for me. If anyone has a ring like this, can I see it? Also, approximately how much would a setting like this cost? Thanks in advance!