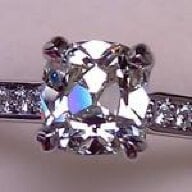 Joined

Oct 22, 2008
Messages

450
Re: Price-prediction of Diamonds- Examination of Alrosa Anal
Karl_K said:

I disagree with you that new diamond rich areas are not waiting to be discovered.
As far as exploration many areas of the world are just getting started in being explored for diamonds.
Everyone scoffed about Canada having diamonds and now off the top of my head and I may be recalling wrong they are around 20% of the market.

But I do agree about fiat currency. Not often that gets brought up here.
I doubt, and if that is the case you have to get the prices way up to justify opening and operating new mines, with the stagnation in the world it is simply next to impossible.
unfortunately we are in a global recession if not depression that will make maintaining what is already operating a tough task.
Humans had as i said exploited the rich easy access natural resources and left with the lower yielding poorer more expensive to extract ones.
You may see a picture of two people sitting on a nugget of copper that is very large and on the surface of earth. now they have to dig miles deeper to get much lower yielding copper. same applies to, oil, natural gas, diamonds........etc, times for easy extraction are over.
We hit the hockey stick on the exponential curve, from there, there is no turning back, too sad, but true!!!!