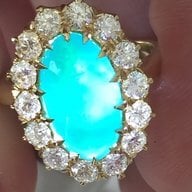 Joined

Aug 17, 2012
Messages

488
A while back - I managed to snap up a gorgeous ruby when Gene posted it online. Details here:
https://www.pricescope.com/forum/colored-stones/gene-s-newest-stones-precision-gem-t215428-60.html
A natural ruby, cut by Gene. I am extremely happy and just a touch smug that I managed to snag it before anyone else.
I had the stone sent to Erica at Love Affair Diamonds to do the setting.
I hummed and hawed about how I wanted it set - which was a bit tricky because I hadn't seen it in real life.
Finally, I had Erica send it to me in Dubai so I could check it out for myself.
And it's lovely. Really, really lovely. Gorgeous colour - more red in real life than it showed on my monitor and the inclusions are incredibly well hidden, as per Gene's description. My daughter said it looks like "lightning" when the light catches the centre of the stone.
Still no closer to knowing what setting I wanted but definitely in love with the stone, it was sent by Fedex back to Erica from Dubai - which was such a drama, it deserves a thread all of its own. I certainly shan't be sending any more jewellery from here, although receiving it is not a problem. Weird.
Now it is back in Erica's capable hands and so begins the setting journey. We are thinking a halo with a combination of French Cuts and rounds or maybe Baguettes and rounds. Platinum? Maybe a bit of yellow gold? It has to bling but still ensure the ruby is the star of the show.
It's all very exciting. I will keep you posted.