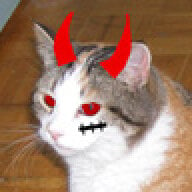 Joined

Nov 19, 2004
Messages

3,450
Well, I think I should stop saying it can''t get worst because it just does.

Today I wrote my last exam as a medical student, and everyone was celebrating their bright future. I left because it made me sad, jealous etc. So as soon as I get home, my mom says to me, ''''Your grandmother just call to tell us that granddad is dying''''
A little history, my grandfather lived with us in Canada for 10 years, and we were very close. He had a stoke 8 years in, which was debilitating but with physiotherapy he got better. He lasted 2 additional years in Canada, before he decided that he really wasn''t happy here (the cold weather and all) and elected to return to Vietnam permenently. This was very difficult for me to accept because saying that the health care system is substandard is an understatement.

For the past 3 years, he''s been in Vietnam living in his native village (a tiny hamlet) we send money, support, for everything he needs, and he has been very happy. We barely communicated (the telephone doesn''t work, and the connection is awful, i.e I can hear his voice but it cuts and you can''t have a conversation.)

So obviously, the people we hired to take care of him are not doctors. All I know is that he fell (don''t know if he hit his head) he''s conscious, but completely paralyzed. Somewhat lucid. But lucid enough to adamently refuse to be take 500+ miles to the hospital. It sounds to me like he might have had a stroke, or he might have hit his head. Details are completely sketchy, but my grandmother and aunt are leaving for Vietnam as soon as possible.

My grandfather is 86 years old. I know, I know, that everyone is thinking...he''s old, lived a good life, but I am terrified that he passes away. I don''t want him to be in pain, and I feel useless here. And it''s selfish, but I don''t think I can stand another blow. We''re going to call Vietnam tonight and hope that we can clarify the situation. So please send positive thoughts if possible.

I feel like it rains cats, dogs, hamsters, horses and pigs. And every other animal concieveable.