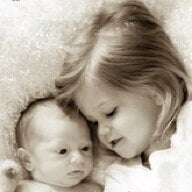 Joined

May 9, 2006
Messages

4,096
Tgal~I'll quit with the ridiculous pizza talk so you'll stick around!
Sounds like you're doing great!
Mara~I think we're pretty much in the same boat....I think most would think I look okay but I am just not where I want to be. My belly is still so flabby it makes me want to cry! ha ha. The rest of my body is pretty much back to "normal." Now that I'm done bfing I just need to get serious about my diet....I've never really had to do that before so it'll take some getting used to!
How is everyone else doing?